In the course of qualitative research, you want to do more than scratch the surface — you want to discover deeper insights by exploring the emotions and subconscious perceptions that are the roots of respondents' opinions.
Creating collages has long allowed research participants to express the depth of their reactions to your concept or brand in a collection of vivid images.
By transforming this technique from traditional to digital, the innovative karmaCollage 2.0 application streamlines collage-making — and offers benefits beyond those realized with the paper-and-scissors approach:
High quality photographs and collages.
Convenient digital format.
Instant compilation of subgroup collages.
Effortless incorporation into reports and presentations.
From pre-work to fieldwork to analysis and reporting, karmaCollage saves you time and money while enriching your qualitative research results.
The Benefits
By combining tradition and technology, karmaCollage maximizes your resources while offering benefits unique to its digital format:
Deeper insights from high quality collages. Collages incorporate high quality, licensed stock images hand chosen to be relevant to your topic but not literal
Seamless results sharing. Digital collages transition effortlessly from the research facility to your reports and presentations.
Compilation collage creation. The proprietary karmaCollage software instantly compiles summary collages for subgroups of interest, allowing clear comparison of loyalists and switchers, men and women, and countless other options.
Easy, fun, and less time-consuming for respondents. Collages can be completed in as little as ten minutes.
The Process 2.0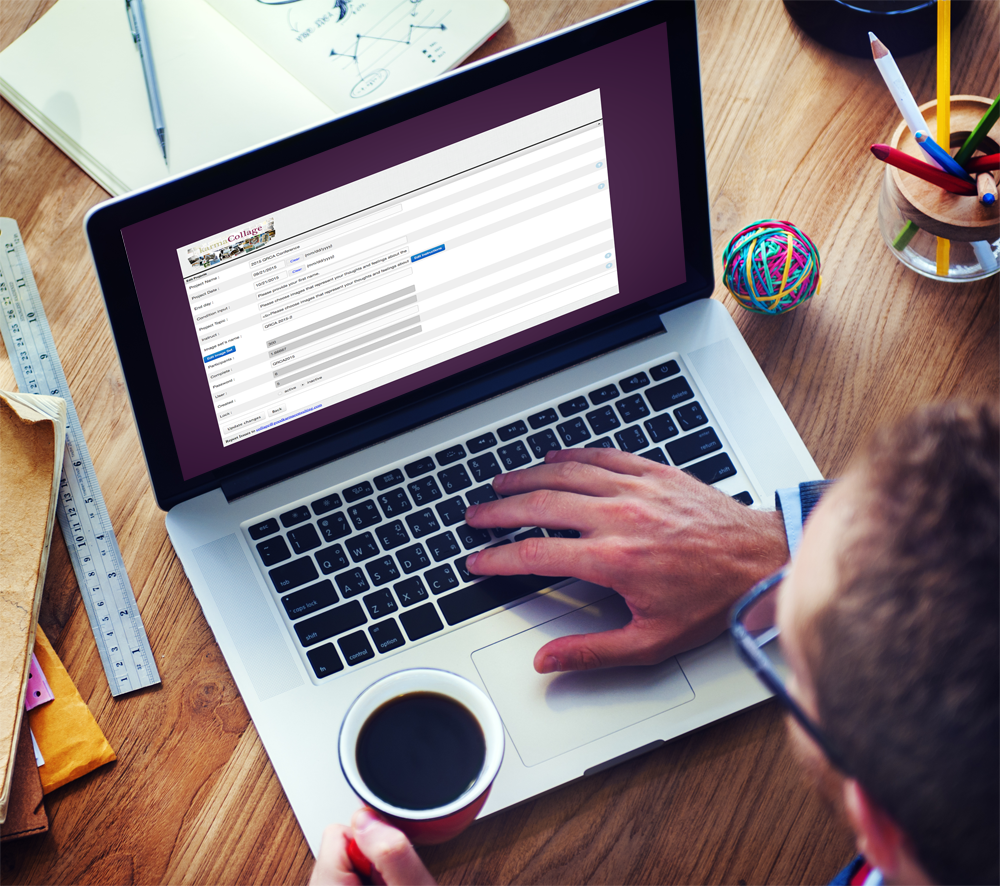 Combining tradition and technology maximizes your resources.
The process to setup a project is very simple and can take less than a day. With the new karmaCollage 2.0, you have the control to update your project topic question, detailed instructions, and choose your own image set from our vast library.
Contact us to initiate your project and receive your login credentials
Update your project information and choose your image set
Send one link and password to all of your respondents

Then, at home or at the research facility, your respondents access a secure web-based interface using the link and password to your project. With the intuitive interface, respondents choose their karmaCollage images from the photo set, placing and sizing them to tell the story of their relationship with your brand or their experiences within a category.
Because the process is so quick and simple, respondents rarely require additional incentive to complete the digital collage, yet you get more out of your study, making the most of your resources. That's Enlightened Research.
To enrich that story, respondents title their karmaCollages and share keywords and themes. They are able to add a broad description of their collage and tag specific images with text. This elegant marriage of the visual and the verbal allows respondents to fully relate the subtleties of their experience.
After respondents upload their collages, Good Karma sends digital collages to you and the qualitative research facility. Your team can view them at your leisure while the facility prepares them for use during focus groups, meaning no more forgotten homework.
Deliverables
The applications of virtual collages are virtually limitless.
With karmaCollage, you receive:
A PDF of each collage.
Compilation collages for subgroups of interest.
An Excel spreadsheet listing collage titles, keywords, and themes.
Frequently Asked Questions
How much does karmaCollage cost?»
How many collages should each respondent create?»
How are images chosen?»
How quickly can respondents create collages?»
How much lead time do I need to provide to setup a project?»
Should I pay respondents a homework incentive?»
What if my respondents do not have computers or access to the internet?»