About Good Karma Consulting
An Enlightened Approach.
Good Karma Consulting is a small qualitative research firm with big ideas. Founded in 2003 by moderator Carey Rellis, Good Karma Consulting serves an international clientele ranging from Fortune 500 companies to small businesses and churches — any organization in need of cutting-edge qualitative research.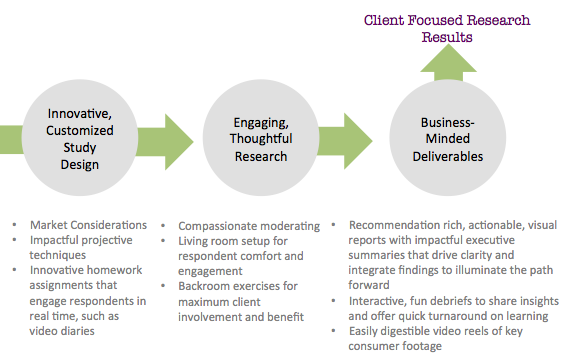 Comfort, Connection — and Results.
The Good Karma philosophy, embodied in its "three flames" logo, centers on caring for clients, respondents, and facility staff to foster learning. Attention to every detail, front room and back, affords all greater comfort, a deeper connection — and more meaningful results.
With Good Karma Consulting, you can expect:
Creativity. From unique ideation techniques to innovative online products, Good Karma Consulting offers qualitative research that digs deeper.
Depth. With both product and packaging development, marketing, and market research experience, Good Karma founder Carey Rellis looks beyond projects to focus on brands.
Results-Orientation. Qualitative research with Good Karma Consulting promises both emotional-level insights and actionable, business-minded recommendations.
Together, it means Enlightened Research — with your brand as the beneficiary.
Meet the Good Karma Team
Carey Rellis
Passionate. Creative. Driven.

Building better brands has been Good Karma founder Carey Rellis's focus for more than a decade. Her stint on the client side as a market research analyst (Kimberly-Clark Corp.), her training at the Creative Problem Solving Institute and RIVA, and her work as a moderator-consultant (Primary Insights) provided significant experience on which to base her founding of Good Karma Consulting in 2003.
As a moderator, Carey handles a variety of brands, tough topics, and international facilitation with a mind for strategy. Working in industries from pharmaceuticals to food and from pets to consumer products, she has probed sensitive subjects like menstruation, incontinence, and religion with delicacy and depth in both North America and Europe.
Carey casts her net industry-wide in the search for innovative ideas — and when she doesn't find them, she creates them herself. Through leadership roles in two chapters of the Qualitative Research Consultants Association (QRCA), she has built a broad network of qualitative research contacts and filled a heavy — but enlightened — toolbox of creative techniques.
Jessica Ricco
Energetic. Forward-Thinking. Tech-Savvy.

Jessica Ricco Spencer enjoys many different roles with Good Karma Consulting – from managing the technological aspects of projects to collaborating on rich deliverables. As the Director of Design and Technology, she built and manages the Good Karma Consulting website, developed and manages Good Karma's proprietary Google Glass application, helped design and manages Good Karma's online digital collage software, karmaCollage, and helps develop and manage best practices with other technologies, including mobile diaries using DScout.
In the office, she serves as a key member of Good Karma's business development team and liason between strategic partners, drawing from her past "entrepreneurial adventures" both in and out of college.
In the field, Jessica serves as a smooth conduit between the back room and the front room and helps manage client backroom activities to enhance engagement and learning. Her energetic presence enhances the client experience, and her enthusiasm for technology and consumer psychology improves the quality of each client report on which she collaborates.
Karin Patterson
Detail-Oriented. Vigilant. Responsive.

Before, during, and after a client's Good Karma field experience, Karin Patterson is there to manage every detail of a project. From developing screeners to overseeing respondent recruitment to collaborating on the visual elements of client reports, Karin puts a decade of consulting expertise and her years of field management know-how to work for qualitative research clients from start to finish.